Hello All --

My hat's off to the costume designers on Vera who created distinctive wardrobe glamour for a middle-aged woman – a woman whose body is not cooperating with cultural preferences for long, lean, lithe figures.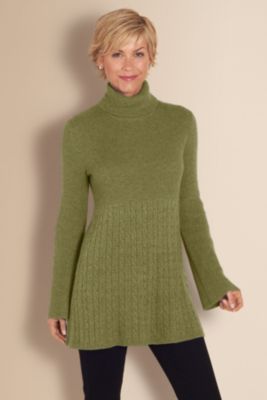 Soft olive, cashmere blend tunic is typical of Vera's wardrobe. I figure-skimming wear with leggings. Fashion After 50 earns a small commission if you click through from this newsletter and buy the product; I appreciate your support.



Color Confidential

Green – especially dark, verdant shades – is the signature wardrobe color of D. C. I. Vera Stanhope, played by Brenda Blethyn.

When we can no longer pull off what current fashion says is stylish (favoring ectomorphs), building a wardrobe around a signature color is a genius solution for developing your personal style.

Vera's style is not solely – perhaps not even mainly – dependent on her wardrobe.

Character Creates Style

She displays the intelligence of Sherlock Holmes, the tenacity of The Closer (Brenda Lee Johnson, played by Kyra Sedgwick), the arrogant wit of (Gregory)House (Hugh Laurie), and the motherly sarcasm of Roseanne Barr.

Vera is an icon for fashioning our late-life selves.

I've only just discovered this riveting British detective serial that has been on the air since 2011. I may have to invest in technology for some binge watching.

Shawl reflects the deep woodland greens of Vera's wardrobe and environment. Handwoven with diamond motif that evokes steep mountains. Miguel states, "I've woven the motifs that are a symbol of my family and it was created on a loom I built myself."



Mask Spread by Deflecting Attention

Vera has some middle-aged spread. Yet she looks dashing arrayed in rich shades of green and details that draw attention to her face.

A trademark scarf looped around her chest focuses eyes from the shoulders up. Vera dresses in hues from inviting forest green to appetizaing olive.

Touches of contrast include a raspberry pink sweater, a vibrant flower color poking from beneath the layers of earthy green.

And earthy Vera is.

Whether she is dressing down a younger detective with a look or a few tart words, or embodying empathy to talk a suicidal father off a cliff, Vera is a mid-life goddess.

Fashioning our mid- and late-life selves requires more than a few well-chosen garments, and this is where Blethyn as Vera shines.

Step into Our Greatness

She projects unshakeable confidence. She knows her worth. Like men who assume they are going to be right (from Sherlock Holmes to House), Vera flaunts her accuracy.



All three colors of the Piazza maxi dress would harmonize with Vera's color choices. Of course, the olive dress – which is showing with more blue like spruce trees on my monitor – offers clean, modern lines that will look good on a stouter woman. It forms a background for trademark scarf.


Her mind reasons with the speed of a mousetrap springing shut, noting discrepancies in witness statements nearly as quickly as the words are spoken.

Her observations are as crisp and tart as apples, her questions as carefully peeled and sliced as hors d'oeuvres.

Vera simultaneously layers character and color, suggesting the fashion archetype Hecate.

Vera's earth-goddess figure would look silly aping the long-legged styles worn with ease by, say, Helen Mirren. That's why I admire the costume designers color strategy to give a wardrobe a flattering, focused, memorable stamp.

The character tends toward mid-calf length skirts and sturdy shoes, appropriate for the rugged Northumberland and her profession.

In one scene, Blethyn wears a quilted vest. Instead of adding unwanted bulk, the shaped seams allow the top to balance the bottom.

Green perfectly complements the Blethyn's complexion and hair color. A forest green fedora and deep green trench coat, almost black in some shots, are the crowning achievement.

Embodying Hecate

In one scene, as she storms away from the camera in her relentless pursuit of truth, the coat, with its epaulettes and generous capelet, billows behind her like a sorcerer's robe. With her hat and umbrella like a magical staff, Vera is every inch the Wise Crone and the Wit(ch).

I love Vera. We old dolls need our own goddesses energies appropriate for women of a certain age..


| | |
| --- | --- |
| | This sweater is brighter than the shades of green worn by Vera in the episode I saw. It still evokes her style for me, no brighter and as richly hued as the raspberry sweater. Subtle metallic thread through the chevron knit. V-neckline and long sleeves with ribbed cuffs add details. |


Disclosure: Fashion After 50 earns a commission when readers purchase from retailers or buy products featured in the newsletter and on the website. The site has affiliate agreements with retailers I trust, but I cannot guarantee you will be satisfied with every purchase; that is between you and the store. I feature fashion products because I like them.

Kind regards,

Enid Sefcovic, Publisher
Fashion After 50
3700 Inverrary Drive
Fort Lauderdale, FL 33319