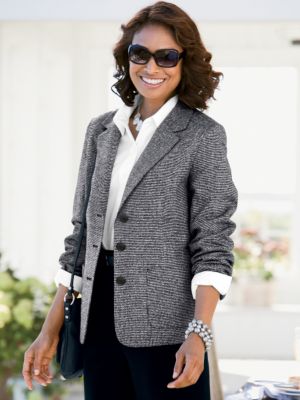 Salt & Pepper Tweed Jacket
takes the boyfriend jacket in a preppy direction with crisp white shirt and office or casual black slacks.

FASHION TIP

The boyfriend blazer is a long boxy jacket with lapels, pockets, and one or two-button closure. It looks like a typical menswear suit jacket.

Make sure it has at least one vent -- that is, split seam -- in the back to allow freedom of movement. We also don't want a straight horizontal line cutting across our posterior, emphasizing its width.

The boyfriend blazer can look sexy or sweet, depending on how you accessorize it, hair, and makeup.

We don't want to look as if we grabbed something from our man's closet, because we couldn't think of anything else to wear. So the entire outfit has to look put-together.

A bit of make-up is a must. Even if you aren't one for cosmetics, a big of eyeshadow or mascara and a bit of lipstick will feminize the look. Whether you go for sultry or sweet is up to you. It depends on whether you go for smoky eyes or just a dab of Vaseline on your eyelashes for a natural look.

A body-hugging tee-shirt and leggings will slenderize the silhouette. A deep V-neckline ups the sex appeal. If you dare to bare your midriff with one of this season's popular crop tops, make sure you have been doing your core exercises. Muffin tops -- the bulge of flesh at the top of the slacks or leggings -- should not peek out.

Slim-leg jeans are another great look with the boyfriend jacket. Baggy twill khakis -- not so much. We want garments that contrast with the square, boxy silhouette to emphasize our curves.


Gloria Vanderbilt Amanda Stretch Jeans, shown in size 12, have narrow leg perfect for wearing with boyfriend jacket or shirt.

I love the new jeans fabrics with stretch that prevents wrinkles and holds the shape all day. And I don't spend a fortune on name brands, either. Beall's Outlet is a local store where I get good prices, so check out the retailers where you live and online to find the best deals.

You also may team the boxy boyfriend jacket with a oversized men's look boyfriend shirt for a sweet, wholesome look. I am partial to white. A big chunky costume jewelry necklace and chunky bracelets will effectively accessorize this look. Or add a long or infinity scarf if your part of the country is battling chilly mornings and evenings.

A slim skirt will allow you to wear a boyfriend jacket to the work place. Make sure, in that case, that the blouse is close to the body but not sheer or revealing. Add a belt and accessories appropriate for your office.

In summary, the boyfriend jacket is an easy-to-wear favorite that is best suited for casual wear but can be worn to the office with a pencil skirt or appropriate slacks and accessories.

SPECIAL OFFERS








QUOTE OF THE WEEK

The beauty of the trees,
the softness of the air,
the fragrance of the grass,
speaks to me.

The summit of the mountain,
the thunder of the sky,
the rhythm of the sea,
speaks to me.

The strength of the fire,
the taste of salmon,
the trail of the sun,
and the life that never goes away,
they speak to me.
And my heart soars."
-- Chief Dan George

EXPRESSING THE GODDESS

Everywhere I look, I find messages that the feminine energy has been missing from our society for too long.

This week, I heard presentations by some of the best-of-the-best researchers in this area, sponsored by The Assisi Institute, about how the masculine warrior archetype (energy pattern) affects many social and political institutions.

I feel energized by this kind of presentation, and it boosts my motivation to read as much as I can about Jungian archetypes and the return of the feminine wisdom energies to our world.

Lectures and conferences -- I can't say enough good things about The Haden Institute conference on dream work and Jungianisn a few weeks ago -- may seem a strange way to have fun.

But it is what makes my heart soar, to borrow a famous line from the film Little Big Man (1970, directed by Arthur Penn and starring Dustin Hoffman) .

This, I believe, is how each of us can bring the healing feminine energy into the world: by doing what makes our hearts soar.

Whether it is cooking, gardening, crafting, dancing, singing, volunteering, praying, entertaining, or something else, please take time to do what makes you feel great about yourself and happy.

We are all connected, and the more happiness we bring into the world, the more healing energy we spread.

Kind regards,

Enid Sefcovic, Publisher
Fashion After 50
3700 Inverrary Drive
Fort Lauderdale, FL 33319