Cozy caftan, gold trim

FASHION TIP

Mom was fashionable in her fancy long gowns and robes, even as she became frail.

Holidays and the chilly extra-long nights of winter are a great time to treat ourselves to some nice lounge wear.

The black zip-front caftan, trimmed in gold satin with a filigree trim along the neckline, placket and sleeves, is typical of the styles mother loved.

A sophisticated slit shows a bit of thigh, and there are side pockets. This elegant at-home wear is velvety soft and washable: polyester with a touch of Spandex for flattering drape
Sequin-trimmed 3 pieces



Chic and cozy, this champagne velour set sparkles with sequins. Sequin knit lines jacket hood, accents sleeve, and creates focal point of V-neck sleeveless top. Cotton-poly blend may be hand-washed.

The navy knit tunic is versatile and will serve you well long after the holidays, transitioning into spring nicely.

The lacy look is an optical illusion; this is a textural knit. Team with knit slacks for an outfit comfortable enough for at-home entertaining. Add some jewelry, and you are good to go for luncheon or movies.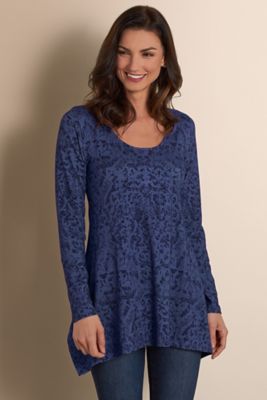 "> Lace illusion knit tunic top



My ultimate indulgence is 100% Silk Pajamas)
. You will find this price hard to beat.

Take Advantage of Post-Holiday Mark-Downs. A few years back, my eyes settled on a white robe of fluffy white polyester, soft as lambs wool but washable.

Eventually I picked it up for $25, after watching it go through several mark-downs.

and affordable Waiting doesn't always turn out so well. I set a price I consider a good deal. If the price hits that point, I purchase; if it does not, I let it go without regret.

SPECIAL OFFERS

25% Off Select Outerwear at Appleseeds.com! Offer valid through 11.23.
Free Shipping on Orders $75+ with code AQ4F1 at Appleseeds.com. Off valid through 11/23.
Winter Watch at STP: Take an Extra 20% off select items! Valid through November 17, 2014.
Footwear Clearance: Up to an Extra 50% off select items! Valid through November 17, 2014.
Shop Down Vests and Jackets and save up to 50%! Valid through November 17, 2014.
Take an Extra 20% off your entire order with code ALTURKEY4! Valid through December 3, 2014, at Sierra Trading Post.
Show us your #PeruvianPicks on Pinterest and you could win a $1,000, $500 or $250 Peruvian Connection gift card! (Submit by Dec 7)


QUOTE OF THE WEEK

"Colorful garments – ball gowns, kimonos, evening pajamas – made from yards upon yards of iridescent silk and velvet. I own an unjustifiable number of such outfits and jump at the chance to wear them. Against the etiquette about which I am otherwise far too conscious, I frequently, and unrepentantly, overdress for the occasion." -- American novelist Julia Glass

EXPRESSING THE GODDESS

Occasionally a reader is offended by "all that stuff about goddesses." But the notion of uncovering the internal courage to express our deepest, most authentic selves is the foundation of the Fashion After 50 philosophy.

Finally being able to dress the way we want, not the way a boss or a lover or society wants us to clothe ourselves is one (and only one) way we can signal the transformations of aging.

I have been dawdling my way through two books that discuss transformational experiences: Hauntings: Dispelling the Ghosts Who Run Our Lives
and Life Beyond Belief, Everyday Living as Spiritual Practice
.

This week I encountered parallel discussions.

Hollis discussed three types of guilt that can block us from expressing our authentic desires. Guilt benefits us when it blocks our impulses toward atrocious behavior; Hollis argues we can more effectively turn away from dark impulses when we realistically confront them as part of our human nature.

Hollis twrites:

"Since feelings are natural spontaneous reports from the psyche – we do not choose feelings, feelings choose us – to repress or constrict them is to collude in self-estrangement. . . .

"Thus, when a natural impulse toward expression rises, a hand [guilt and its strategies of avoidance, over-compensation, and self-sabotage] metaphorically reaches out and arrests the movement as a mode of reflexive protection. . . .

"The payoff is anxiety management; the price is self-estrangement" (p. 74).

"Guilt as a defense against the archaic agendas of angst [often learned as defenseless children] reflects the necessary conditioning every child faces, and it shows up later as a tacit lack of permission to be oneself" (p. 75).

Whilst Hollis explores transformation from a psychological perspective, Gardner offers a transcendental point of view:

"Whatever ideas and mental pictures are frightening us, they are the effects of fear, not its cause. The cause is a sweet protectiveness based on not yet fully knowing that there is quite another possibility for this organism, for this life: a new source of a different kind of safety" (p. 139).

Gardner struggles to describes the ineffable condition of at-one-ness, of surrendering to the great unknowns – God or gods if you will – of accepting life on life's terms and confronting each experience of the moment in the moment without the guilt of the past and anxiety about the future, as Hollis so aptly make this point.

And what does all this have to do with fashion and style, you may ask.

The great winter holiday season is upon us, with all its expectations and rituals. The chains of guilt and anxiety are strong throughout this period.

Each of us must determine how to navigate them and yet still give ourselves the gift of true, authentic self-expression.

Wear a Christmas sweater you have decorated with your grandchild if that will bring a smile to your face and warmth to your heart, even if a fashion guru declares them horrible.

Skip family rituals all together and take a trip to Mexico or the Christmas markets of Europe, if that is what your heart longs to do. Or pretend to take the trip and stay home alone, if you want a day of peace and rest.

We have not many years left to express our inner goddesses, our most authentic and divine impulses. Now is your time.

With kindness and gratitude,

Enid Sefcovic, Publisher, Fashion After 50
3700 Inverrary Drive Fort Lauderdale, FL