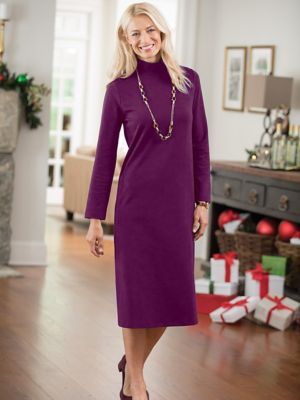 Medium weight ponte knit A-line dress may be worn with boots and belt or dress it up with heels and jewelry.



FASHION TIP

Coco Chanel's inception of the little black dress has been an enduring wardrobe staple for about 90 years.

Today, the little red dress is nearly as useful for all but the most somber occasions.

From weddings to funerals, from business occasions to an intimate dinner out, the LBD is one of the most useful wardrobe investments you can make.

If you are at a point where you no longer want to wear hosiery, quality wide-legged pants or a long skirt may substitute for a dress with a top of your choice appropriate for the occasion.

Whether you choose a spotless white silk blouse, a black tunic sparkling with sequins, or something else, draped slacks and a classic top also are versatile for special occasions.

A flattering quality dress will last for years, if properly cleaned and stored.
Dressier ruffled knit will pamper you with silky texture and feminine wrap style.



A classic style in a solid color moves from day to night with only a change of accessories – including shoes, jacket or shawl, scarves or jewelry, and outerwear such as a plain trench coat or a glamorous evening faux fur.

Never store your dress with sweat or other stains.

At best, you will pull the garment out of the closet on short notice, only to find you cannot wear it and have nothing else.

At worst, the stains will set and ruin the garment.
Columbia's traditional LBD long-sleeve
knit offers ultimate in versatility.

Consult a good online guide for stain removal or give your clothes to a professional for cleaning.

I like to air clothes for a few hours before putting them in the closet. This keeps them fresh and shakes out light wrinkles.

Hang clothing immediately after wearing. Pick hangers that don't push up the shoulders into odd shapes.

Develop a health maintenance program so you don't gain weight, and clothing continues to fit and so you may enjoy them for many years.

SPECIAL OFFERS

25% Off Everything + $5 Shipping with code AWTHX at Appleseeds.com! Offer valid 11/27 through 11/30.
30% Off Everything + $5 Shipping at Appleseeds.com with code APCYBER! Offer valid 12.1. 30% Off Everything + $5 Shipping at Appleseeds.com with code APCYBER! Offer valid 12.1.
BLACK FRIDAY! 25% OFF when you spend $100 or more with code: NUTMEG14. Valid 11/27-11/29.
Black Friday Weekend Offer: Get an additional 20% off sale category plus FREE Shipping at PeruvianConnection.com! Use promo code JOLLY. Offer Valid 11/27 - 11/30


QUOTE OF THE WEEK

"That's what careless words do. They make people love you a little less." – Arundati Roy in The God of Small Things.

EXPRESSING THE GODDESS

Silence speaks volumes, it has been said. I am enjoying a retreat from words this week. Happy Thanksgiving, peace and blessings.

Enid Sefcovic, Publisher, Fashion After 50
3700 Inverrary Drive Fort Lauderdale, FL